Roller Chain Manufacturers in India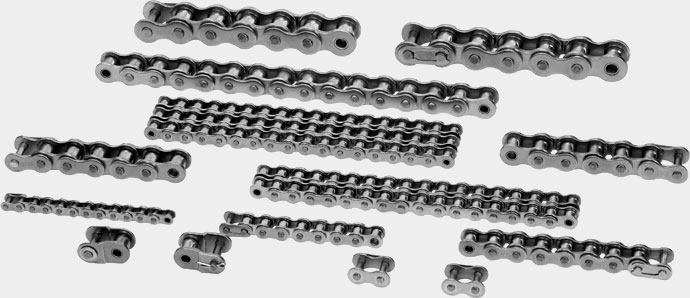 Roller chains, also known as bush roller chains, can be described as a form of chain drive which is mostly used in the smooth transmission of the mechanical power. At Nishi Enterprise, we leave no stone unturned when it comes to creating the finest quality roller chains for our worldwide customers. Our roller chains are made with the best quality materials which mean that they can deliver powerful service for a long time. The versatility of these products makes them perfectly suitable for a broad range of uses. We are well aware of the current trends of the industry and this enables us to create products that are perfectly to the liking of our customers. Whether you want standard versions of roller chains or customized versions, our expert roller chain suppliers can deliver the finest products for you as and when you need them. We can take your drawings or samples and then use them to create the custom products that you are looking for.
Our Specialty
Here are some of the distinct features of our roller chains.
Crafted only from the highest quality stainless steel materials
Tested for maximum load bearing capacity
All stainless steel raw materials are hardened so as to make sure that these products offer high durability and resistance to corrosion or wearing and tearing
Can deliver powerful performance for many years
All products are passed through stringent quality checks
Roller chains that are designed for optimum flexibility and ease of use
Both standard and customized versions are available
Our products come in both single and double strand configurations
The O-ring chains come with self-lubricating features which makes them perfect for advanced uses
Our Roller Chain Applications
Our roller chain products are implemented on a wide range of domestic, agricultural and industrial machineries. Some of them have been listed below.
Cars
Bicycles
Conveyors
Motorcycles
Printing presses
Wire-drawing machines
Tube-drawing machines
Here at Nishi Enterprise, we carry out intense research and development so as to make sure that our products are some of the best in the industry. We also excel at designing and producing custom industrial roller chains that you can use for benefitting from enhanced productivity. Before approving any unit for sales, we carry out thorough performance tests to make sure that they can handle loads of various sizes and deliver superior performance for many years to come.