Flywheels As Per Dwg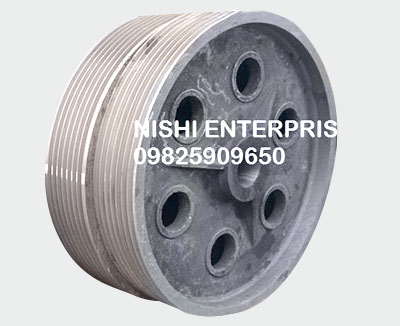 Nishi Enterprise is a formidable name in the industrial pulley manufacturing sector. We are a highly efficient designer and manufacturer of top end pulley components that can be used for different types of applications. We specialize in the designing and manufacturing of different types of Flywheels which can be used with different types of machines. Our engineers can create the best single mass flywheels and dual mass flywheels for both domestic and international markets. We always make use of best quality raw materials and design top grade Flywheels that come in diverse sizes and shapes. We also excel in delivering custom designed Flywheels based on the specific needs and requirements of our clients.
Our state of the art Flywheels are used in diverse applications and markets such as agricultural, light industrial, fitness and off-highway functions. We offer different types of flywheels that come in numerous poly-v configurations. They can also be manufactured along with the optional cooling fans. Our products range in a variety of configurations and shaft sizes. We also use extremely precise and accurate balancing methods for ensuring durability, quality and a noise free performance. We have elevated the techniques of vibration analysis to higher levels of efficiency by delivering the best motor-flywheel assemblies. We also specialize in designing and producing different types of custom built flywheels for our customers.
Benefits of Using Our Flywheels
Our flywheels can be used to enhance the operational efficiency of all kinds of manual transmissions. They are also notable for their exquisite construction and finish which ensures strong performance for many years to come. If you are looking for flywheels that can guarantee you cost efficient operations and user friendliness, then you can rely on our products for offering you excellent results each and every time. You can also buy our flywheels in a number of different diameters and sizes.
We always choose the finest handpicked raw materials to make our flywheels and then incorporate a casting method to produce them. Our efficiency in working with these products has enabled us to create products that deliver strong performance each and every time. We also make use of a number of different techniques to enhance the tensile strength, ruggedness and robustness of these products.
Once these flywheels are created, we expose them to some of the most stringent quality checks to make sure that our end users are always satisfied with our products.