Kiln Support Roller Assembly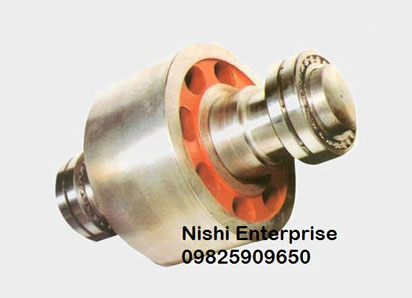 Nishi Enterprise is the proud designer and manufacturer of top grade kiln support roller assembly products that are widely regarded as some of the best in the industry. Our products are used in numerous plants and industries for a broad range of functions. Our products are known for their uniform wall thickness which ensures perfectly uniform cooling. This helps to reduce structural defects and make them more user-friendly. A thick section called hot spot may lead to uneven cooling thus resulting in porosity, shrinkage and cracking. However, when you get products that are designed by our team, you can be sure of the fact that you won't have to face such issues at any circumstances.
The advanced design of our products makes them extremely useful for a broad range of uses and functions. It is due to this reason that our kiln support roller assembly items are favored by clients in India and abroad.
Sponge Iron Plants
We offer the best grade sponge iron plants in the following dimensions
100tpd, 50tpd, 300tpd, 200tpd, 500tpd and 350tpd plants are available for numerous design consultants like:
od1800mm x id500 x 1000mm
od1000mm x id320/300 x 560/550mm
od1700mm x id550 x 880mm
od400mm x id160 x 240mm or any customized design
Cements plants for all capacities
Phosphate mines
Kaolin & bentonite plants
Alumina plants
Applications
Here are some of the main applications of our kiln support roller assembly products:
Cement mills
Shipbuilding
Rotary kilns
Mining
Metallurgy
Powder plants
Sugar mills
Engine beds
Rail roads
Apart from offering products that can be used for the applications described above, we can also deliver OEM services for rotary kiln casting items and cement mill parts, marine steel casting components as well as machinery parts for sugar mills with low alloy steel or carbon steel components. These casting parts are made available with the following treatments:
Machining: Semi-finished machined, rough machined and finished machined
Heat Treatment: 100% normalized, quench and tempered, normalized and tempered
Unique Features of Our Diverse Products
At Nishi Enterprise, we always maintain the highest quality of products and services so that our clients are always happy. Here are some factors that make us a class apart in our industry.
Highly durable products
Excellent tensile strength
Good dimensional accuracy
Superior level of tolerance
Can be installed and used easily
Superb surface finishing