Roller Chains in Philippines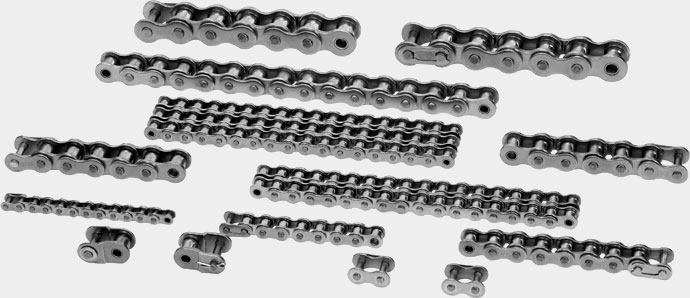 Nishi Enterprise is a renowned designer and manufacturer of roller chains in a number of different designs and dimensions. Our products are used extensively with textile machineries, printing machineries and equipments, the railway industry, agricultural equipments, quarries, the transport industry, in fairground rides as well as with numerous other types of machines. Being eminent Roller Chain Manufacturers in Philippines with many years of experience, we follow a very strict code of quality with all of our products and this has enabled us to gain the trust of our extensive clientele. We have some of the most reputable industrial chains in Philippines as our clients and we also offer our products to medium and small sized companies.
As the best Roller Chain Manufacturers in India and Philippines, we produce roller chains that are in line with all the leading global standards, namely ISO, American and British. Our roller chains are comprised of 3 strands and designed for optimum efficiency. Some of the major features of our roller chains include high durability, superior heat resistance, lower coefficient of friction, abrasive resistance, high level power transmissibility, robust structure and longer lifespan. Such factors make our products some of the best in the industry. We can also create customized units of roller chains for your company's needs so that you get the best value for your money. This makes us the best Roller Chain Supplier in Philippines.
Our roller chains have immense capability of power transmission which makes them extremely useful. They are also quite flexile which means that you can easily use them for diverse projects. The roller chains we have to offer can also manage high loads even in adverse operating conditions. So if you are looking for Roller Chain Sprockets Suppliers that can provide you with the best value, consult us at Nishi Enterprise for the best solutions.